Welcome to the November 2004 - PathAway Newsletter. In this edition:
NEW! - PathAway Receives Stellar Reviews!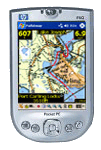 PocketNow, and PocketNavigation.de have taken their first good look at PathAway for Windows Mobile. Check out what they have to say about the product.
PocketNow Review, 27-Oct-04
by Russ Smith, Contributing Editor
I'll have to confess that this is one of those applications I didn't know how much I could use until I tried it out. When I did, I found a number of potential applications. The program is flexible enough that the only limit to making it work with location-based applications is your imagination. The question is not really "What can it do?", but "When it comes to GPS, what can't it do?" As you begin to see the wealth of applications, the $50 price tag looks all the more reasonable. In fact, as I'm writing this, I'm surprised the program is as inexpensive as it is for all the features it offers.
If you're looking for a GPS application to help you while you travel by virtually any mode of transportation; if you're looking for a GPS application that can take you virtually anywhere; if you're looking for a GPS program that isn't limited by the maps that come on the product CD; this is it. Look no further.
Click HERE for the Full Story
---

16-Oct-04 Review from PocketNavigation.de (German)
German:
PathAway hat alle Voraussetzungen, die Klasse der Rasterkarten-Programme zu dominieren! Das Programm besitzt schon auf der PocketPC-Seite einen riesigen Funktionsumfang. Track-, Routen- und Waypointverwaltung lassen wirklich keine Wünsche offen. Die reine Movingmap-Funktion bekommt allerdings auch der Anfänger schnell hin. Aber so richtig kommt Pathaway erst im Zusammenspiel mit TTQV auf dem PC zur Geltung.
Es gibt kaum ein digitales Kartenformat, DAs TTQV nicht einlesen kann, und alle eingelesenen Karten können erfreulicherweise MIT Übernahme der Kalibrierungsdaten in DAs Pathaway-Format übertragen werden.
Kalibrieren ade - nur bei eingescannten Papierkarten ist DAs natürlich auch bei PathAway/TTQV weiterhin erforderlich. Preis: ca. 49€

English Translation:
PathAway has all conditions to dominate the class of the raster map programs! The program possesses an enormous function range on the pocket PC side. Track, Route and Waypoint features really leave no desires open. The pure Moving Map function also gets the beginner working fast. But PathAway becomes even more effective in interaction with Tourtatech-QV on the PC. There is hardly a digital format which TTQV cannot read in, and all maps and calibration data can be transferred directly into the PathAway format. Calibration aide for scanned paper maps is also a natural fit with Pathaway/TTQV.

PathAway Quick Tips - Calibrating Maps
GPS ASSISTED MAP CALIBRATION.
The most accurate way to ensure your newly scanned or downloaded map is calibrated correctly is to use your GPS captured points. Even with calibrated maps, the accuracy may not quite be right unless the author of the map is very precise. Here's a great method to creating super accurate maps:
Download or scan you map into a Jpeg or BMP file. Ensure that the latitude and longitude lines are horizontal and vertical, and that North is at the top of the map. You may need to use an image editor to rotate the map if they aren't.
Run PathAway Map Manager.
Select File->Import map, select the the map, then select the name, scale factor, and color depth.
Select File->Send (choose your device type here) and transfer your map to your handheld. Ok, you're done with the PC App now. You can do all the rest out in the field on your handheld!
Travel to an identifiable location that is within the bounds of your new map. (Don't forget to take your GPS and your Handheld with PathAway on it!)
Run PathAway on your Handheld.
Connect to your GPS and ensure you have a good fix.
Mark the current location by selecting the 'Add Point' icon.
There are two things you can do from here. You can calibrate using this point, or you can capture another point that is on a diagonal to this point and as far away from it as possible while remaining within the boundaries of the map. Here is a description of how to do either option.
Method 1: Calibrating using Two Known Points
With this method, you'll need to be able to travel on a diagonal to a point as far away from the first point as possible. Or, perhaps you have installed some points previously that will be suitable for calibrating this map. Follow these steps to get the map Calibrated.
Ensure the second point has been marked.
Now select Options->Maps from the PathAway Main Menu.
From the Maps dialog, select your new Map, and choose 'Show'.
The map will be displayed on the screen. (Notice the latitude/longitude location display will initially be completely wrong. This is just the default location PathAway picks for non-calibrated maps).
Now, choose Options->Calibrate Map... from the main menu.
Select "Calibrate by two known points", and press OK.
For the first point, Click (click and hold on PocketPC) on the location on the map where your first marked point is.
This will bring up the 'Points' dialog. Select the point where the location is and press OK.
Now do the same thing with the second point.
After you finish selecting the second point, the Map Info screen will pop up to show the top-left and bottom-right coordinates of your map.
Congratulations, your map is now calibrated!
Note, if the map isn't quite right (possibly because the points are not far enough apart), then you can fine-tune the map by going to Method 2.
Method 2: Calibrating using Nudge Controls
With this method, you can calibrate the map in a more visual way, and make adjustments to it until it's right. Here's the steps:
After marking the first point, into your Options->Maps dialog, and select your new Map from the list.
From the Maps dialog Menu, choose "Calibrate Map".
Turn ON "Center Map on current location". This gets your map to lie within the bounds of where your marked point is.
Select "Calibrate using nudge controls.
Press OK. You will be returned to the main screen with your map and the Nudge Control Panel shown.
Use the Arrow keys on the left to move the map to be located over your current position.
Next, Size the map to it's approximate range. Use the 'View Range' value on the Dashboard as an indicator. This should get your map close to it's correct calibration.
You may need to make further adjustments as you go. Simply use the sizing and moving buttons on the control panel to make the adjustments.
While calibrating maps can be sometimes tedious, the rewards are that you've created your unique navigation system that is targeted directly towards your needs.
About PathAway GPS 3
If you get out and go places, PathAway is the companion to take with you.
PathAway provides affordable navigational support for aviation, boating, automobile (on and off-road), hiking, cycling, touring, rally racing, motorcycle touring, ballooning, scuba diving, fishing, hunting, paragliding, mountain climbing, ultra-light flying, canoeing, snowmobiling, athletic training, outdoor education, geocaching, mapping/GIS, mining, military training, surveying, site inspection, telematics, field data collection, security, search and rescue or any application where location is important.
Key Features:
Palm OS and Windows Mobile Platforms.
GPS Navigation with most GPS Devices (including Bluetooth)
Import your own Maps using PathAway Map Manager
Intelligent Moving Map Display
Map Projections, UTM, OSGB, and Datum support
Add Personal Points of Interest/Waypoints
Record and Follow your Tracks
Track, Multi and single Point-to-Point Routing
Navigation Warnings and Alarms
Onscreen Trip Statistics on a Customizable Dashboard
Palm OS and Windows Mobile versions
Transfer Data To and From Garmin and Magellan GPS Devices
Thanks for reading the PathAway Newsletter!
We hope you are appreciating the PathAway Newsletter. If you no longer want to receive this Newsletter, please unsubscribe as per the instructions below. We endeaver to make your experience with PathAway as rewarding as possible, so if you have any comments, please don't hesitate to contact us.
Enjoy,
The PathAway Team
---