Hello PathAway registered users,
The highly anticipated PathAway GPS Navigation and Mapping software version 3.0 is now ready for DOWNLOAD! PathAway 3.0 incorporates some incredible new features to enhance your Palm+GPS experience. PathAway 3 takes advantage of the latest Palm OS 5 capabilities, and works with all the most popular GPS devices, from handhelds, to Bluetooth, compact flash, and snap-on units.
You can now zoom in and out by scaling maps on the fly. You can even calibrate maps in their original projection and datum formats for pin-point accuracy. UTM and OSGB positioning readouts are also now available. Full Hi-Resolution and Expandable screen support for Palm OS 5 is also implemented. Having trouble reading your route lines at a glance? Now adjust the thickness and color of all tracks and routes for easy readability. Even choose different size, color, and style of current position marker. For routing, PathAway is even quicker to setup a target point to immediately route to with Single Point Routing. Here is the complete list of new features added to version 3.0:
PathAway version 3.0 Features :
* These features highlight only the enhancements made from PathAway 2.1 to 3.0. For a complete description of all of PathAway's features, please visit us at http://PathAway.com.
New Palm OS 5 Support:

Full Palm OS 5 Compatibility. 320x320 Hi-Res Support for Tungsten etc. Sony 320x480 Expandable Screen support.
Requires at least Palm OS 3.5.

Improved User Interface:

Expanded and Improved Pop-up Context Menus:

Always shows selected position coordinates at top of menu. Quick Map Show/Hide. Add to Route at Start, to End, or Insert at selected position. Choose Map Layer by Name and Size (+) or (-). Quick Point Information screen by selecting Point Name.
Multiple Points selectable from Points Menu Pop-up.

Built-in World Map View (Goto Menu). For quick location re-positioning. New Route on Startup option.
New enhancements designed for quick glances at the screen:

Color and thickness setting for track/route lines. Choice of 3 different Current Position Pointers, with Color and Size. Dashboard Color set. Contrast dashboard to your maps. Hide Dashboard and Top Toolbar. See the map using the Entire Screen. Dashboard Text Size - Small - Normal - Large.
Auto zoom to Highest detailed map when connected to GPS.

Cartographer Quality Mapping Support

Map Datum and Ellipsoid support. Maps can now plot accuraratly for non-rectangular maps. Map Projection support in separate Shared Libraries. No need to waste valuable memory for unused projections.
Scaling of maps for zoom In and out.

Expanded Map/Route/Track/Point Database Management:

Visibility of Point/Route/Track Databases switchable on/off. Added support for Track and Route file support on Cards. Now all databases may be stored on external cards. Note, Icon and Vehicle databases stored on cards will make the application run much slower. Shows Vehicle and Point Icons on List. Sort by Map Scale. Transportation type settings for all databases including Points and Maps. Select the specific Point database to write new Points to. Hide column data indicator to view long point names. Icons now shown with Point names.
Move ALL databases to/from memory cards.

New Navigation Features:

Single Point Routing. Vertical distance to next point output. Vertical angle to next point output. Improved "Position Along Route" algorithm for more accurate Time and Distance along track estimation. Improved Route and Track rendering performance by over 800%.
UTM, OSGB formats added.

GPS Support Enhancements:

Garmin Positioning protocol. No need to switch between NMEA and Garmin protocols if uploading and downloading your data. Trackpoints can now be set dependent on the distance traveled. Garmin Waypoint Symbols. GPS Communications now Interrupt driven. Preserves batteries for sled-based GPS devices, and improves program responsiveness.
Improved "Next Point in Route" detection.

Upload/ Download From GPS:

Track start/stop markers recorded on download of tracks.
Magellan NMEA data upload/download support.
Touratech-QV and PathAway Continue Software Integration
Touratech-QV Desktop Mapping Software first integrated PathAway map and data conversion over a year ago. This latest version of PathAway is even better with support for Projected maps and datum. Now Touratech maps can be output direct to PathAway with more precise plotting, and without map distortion. The special Touratech version of PathAway will be available soon in English, German and French languages. Details at http://PathAway.com/ttqv.htm
PathAway Usage Today
PathAway is being used for tracking race routes prior to the rally races, hikers download trail maps from the Internet to follow trails, others are following tracked routes while boating to find their way home in poor weather conditions. Scuba divers, fishermen, hunters, etc use the product to mark and recall their secret spots. The product is also used by Paragliders, mountain climbers, ultralight and private pilots, canoeists, snowmobilers and more.
If you're outdoors and going places, PathAway is there.
Even professionals use PathAway in areas such as mapping/GIS, tourism, mining, military training, Surveying, site Inspection, telematics, field reporting and data collections, Security and Safety, Search and Rescue and more...
MuskokaTech's software developer kits are being used by mapping companies for tighter integration between maps and PathAway.
Send us feedback and testimonials!
We love to hear what you're doing with PathAway, and what it is about the product that you find so appealing. This feedback continues to provide us with qualified information to help us understand how the product is used by our customers. Your input makes a better product for the future.
To send your testimonial /feedback, please fill in our feedback form at http://pathaway.com/feedback.htm.
Enjoy,
The PathAway Team
Touratech-QV and PathAway Continue Software Integration
Send us feedback and testimonials!
---
Download Now *
* Free 15 day trial

Upgrade Now!
only $19.95 US! *
* Previous version registration key required.


$49.95 US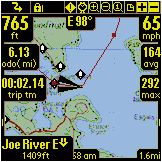 visit us at
PathAway.com