Welcome to the September 2004 - PathAway Newsletter. In this edition:
---
NEW! - PathAway for Windows Mobile Handhelds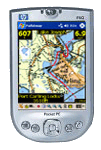 Finally, after much new development work, PathAway is now available on Windows Mobile devices!
The new Windows Mobile version of PathAway offers all the same functionality as the current version on Palm Powered Handhelds.
The current version supports Pocket PC 2002, 2003 operating systems running ARM-based processors. New Windows mobile platforms will be released in due course. Please notify us if you're waiting on a specific platform to be released.
Check out our redesigned Web site to try PathAway on your Windows Mobile handheld.
---
PathAway in German, French, and Spanish
Our partners have assisted us in translating PathAway to German, French, and Spanish. Here's where you can get these versions of the program:
Currently our partners are offering the translated Palm OS versions of PathAway. Check with them soon to find the availability of the localized Windows Mobile version.
---
PathAway Quick Tips - Palm OS
Converting Tracks/Point and Route Databases.
PathAway today has free utilities for converting to and from PathAway database format. The PWDBConvert utilities allow you to convert between different formats using a number of different parameters. Here's the process to go through to save a PathAway Track into a Text delimited format:
Record the Track noting its name, say TRK101.
HotSync your Palm.
Download and unzip PWDBConvert.zip from http://pathaway.com/convert.htm into C:\PWDBConvert folder.
Assuming your Palm User name is Frank Butterworth, and you installed the Palm Desktop software to your
C:\Program Files\Palm folder, open Windows Explorer and traverse to the folder.
C:\Program Files\Palm\ButterF\Backup (Palm creates your backup and archive folders based on the first 6 letters of the last name plus the first letter or two of the first name.
Select the file named TRK101.pdb, right click and select Copy.
Traverse to the C:\PWDBConvert folder. Right click and Select Paste.
Open the Windows"Command Line" Console Window.
Type CD \PWDBConvert and press Enter.
Type PWDBConvert TRK101.pdb and press Enter.
This will create a file called TRK101.CSV which is a text file with all PathAway fields separated by commas, and each track record separated by carriage returns. Go back into windows and Open this file in a program such as NotePad or Excel to view its contents.
This method can also be run to convert the CSV file into PathAway format. Ie. PWDBConvert TRK101.csv will create the PathAway file TRK101.pdb. There are many other options for the destination file formats using command line parameters for creating a .CAL file to define the format. See the PathAway Database Conversion Manual for more info.
---
PathAway Usage Today - Lepping
I use PathAway for Lepping. So what is Lepping?

"Lepping" is the word coined for butterfly enthusiasts. It comes from the Latin word lepidoptera (meaning scale-bearing) which is the class of insects that includes moths and butterflies. We refer to ourselves as "leppers" - no relation to leprosy, although some may consider us social outcasts too!.
Lepping is to butterfly watching as birding is to bird watching, i.e., it is an active sport that often includes a degree of scientific pursuit. For Instance, I use GPS, PathAway on my Palm M515 to record wildlife surveys as a volunteer for the Florida Park Service.
Recently, a group of us, headed by our mentors Buck and Linda Cooper, concluded a comprehensive wildlife survey of Kissimmiee Prairie Preserve State Park. Their two-year effort encompassed monthly surveys of the 60 square mile park inventorying birds, mammals, plants, dragonflies and butterflies. The input from the survey helps the State develop a conservation and management plan for the park. If you are interested you may want to check out www.naba.org Photography and videography also play a role in documenting species, too. It's a pretty satisfying and stimulating outdoor activity.
Brookes Atherton
Got a story about PathAway? Send it to us and we'll share it with others in future newsletters.
---
PathAway 4 Wish List
Work on PathAway 4 is well under way. Here's some of the top priority new features slated for this exciting new version. The list is based on feedback from users and what we see as market opportunities. The final list of features that will make it into PathAway 4 will be announced in the coming months.
Faster Startup and cataloging of map, point, track, and route databases.
Power Management features such as Screen sleep, and wakeup and record track alarms.
More advanced Multi-point map calibration options.

Track Up Navigation.
Magnetic Variation Display.
More Grid Locations. Swiss, Irish etc.
Hard Key Customization and Disabling.
Custom Waypoint fields.
Image, Photo, and Draw Waypoint Fields.
Automatic Bluetooth GPS Detection.
Palm OS 5+ ARM-Based Optimizations
Elevation Alarms and Warnings.
Manual and Proximity based Route Point Targeting.
Support for more map and image formats in Map Manager.
PC-based Track/Route/Points Manager.
On-the-fly Capture maps via JPeg and Digital Camera.
Got something to add to the PathAway 4 Wishlist? Send it to us and we'll make sure it gets serious consideration. If it's important to you, it's important to us.
---
Latest Customer Comments





07-Sep-04 by Marco on PalmGear
This is a simple to use, but unequaled powerful software. I used it so far on Tungsten E running on PalmOS 5. The performance at a 8bit color depth is just enjoyable...





02-Sep-04 by Nadim on PalmGear
I've had this program for over a month now, and have scanned in really detailed flying charts. A 4Mb image synchs in a blink of the eye. The share no. of features the program has to offer is amazing. I would recommend it to people wishing to use it for flying.





07-Aug 2004, Gregor, Germany
To the creator(s) of PathAway:
My congratulation for this excellent engineering product.
I tried the demo version and found:
a.) functions (and details) are very helpful and reasonable selected
(for sportive/leisure activities)
b.) operation is intuitive
c.) it's very stable and predictive




26-Jul-04 by Anthony on PalmGear
PathAway is the single best program for PalmOS. I'm using it with a Tungsten T-2, Emtac Trine bluetooth GPS, and ETopo digital maps. It is fast and incredibly easy to use, and it does everything you want to do when going out on the land.
I use it for hiking, fishing and hunting. I also use it for geocaching, and for data collection to create my own maps of local trails.
The on-map navigation is by far the best of any software I've tried -- many times better than Fugawi. Zooming, tiling, and layering maps works amazingly well.
Waypoints, routes and tracks are all good. The customizable navigation views are a really great feature...
Nothing else even comes close for the Palm. Try this one first -- you won't be disappointed.
---
About PathAway GPS 3
PathAway provides affordable navigational support for aviation, boating, automobile (on and off-road), hiking, cycling, touring, rally racing, motorcycle touring, ballooning, scuba diving, fishing, hunting, paragliding, mountain climbing, ultra-light flying, canoeing, snowmobiling, athletic training, outdoor education, geocaching, mapping/GIS, mining, military training, surveying, site inspection, telematics, field data collection, security, search and rescue or any application where location is important.
If you get out and go places, PathAway is the companion to take with you.
Key Features:
Palm OS and Windows Mobile Platforms.
GPS Navigation with most GPS Devices (including Bluetooth)
Import your own Maps using PathAway Map Manager
Intelligent Moving Map Display
Map Projections, UTM, OSGB, and Datum support
Add Personal Points of Interest/Waypoints
Record and Follow your Tracks
Track, Multi and single Point-to-Point Routing
Navigation Warnings and Alarms
Onscreen Trip Statistics on a Customizable Dashboard
Palm OS and Windows Mobile versions
Transfer Data To and From Garmin and Magellan GPS Devices
Visit us at http://PathAway.com for all the details
---
Enjoy,
The PathAway Team