We are very pleased to announce the long awaited Android version of PathAway. PathAway Express Edition is a fully customizable navigation and mapping solution with support for online downloaded maps and customized PathAway maps (PRC). Use the PathAway tools to create and calibrate your own layered maps. Any digitized map can be turned into a moving map navigational chart. PathAway maps can also be created or acquired from third-party sources. Visit http://pathAway.com/links.htm for links to PathAway map sources.
The Express Edition for Android Smartphones and Tablets is available on http://pathAway.com.

Here are details of this version: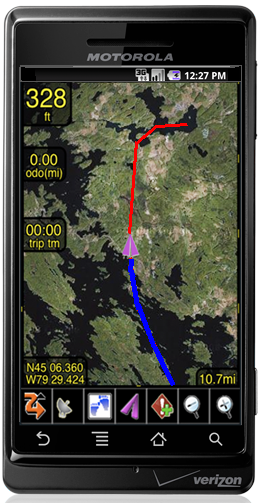 GPS Navigation
Use the embedded GPS in your Android smartphone or tablet and use PathAway to navigate on a moving map display, or compass view.
WebMaps - Download Internet maps on-the-fly
Web Maps allows you to download maps on-the-fly from a Map Server on the internet. Maps will be downloaded in the background and displayed on the screen as they complete downloading. Maps are cached, so downloading only needs to be done once, and maps are available when you are out of data connection range.
Maps currently supported:
Google Maps: Worldwide street, satellite, and terrain maps.
Terraserver-USA Maps: USGA Topographic and aerial photo maps. Covers USA only.
OpenStreetMap.com: User contributed Street Map Community. Covers most of World.
OpenCycleMap.com: User contributed topographic and terrain maps. Covers most of World
Custom PathAway Maps
- Import and use customized PathAway maps created using PathAway or 3rd party Tools;
-All existing PathAway .prc maps are supported.
- Once installed into PathAway, the custom maps are layered by map resolution so you can Zoom In and Out between maps located over the same areas.
- The PathAway PC Software tools can be used to create a navigational map from any digital map source. If the digital map doesn't contain navigational data, you can define it yourself using the Map Calibration features of PathAway Map Manager
- Also use 3rd party utilities such as Touratech-QV and Fugawi Global Navigator to create and import PathAway Custom Maps. PathAway maps are also available from other 3rd party sources. Check our Links page for information.
- Maps are converted into a highly optimized format so PathAway runs efficiently with a map of any size (limited only by available device memory)
Import/Export Data Formats
- Google Earth KML and KMZ, GPX, LOC, and other formats supported via PathAway PC Conversion Tools, or directly on your handheld. Download favorite Geocache or hiking routes. Save your tracks or send them to others. Import is done by downloading the data files via Safari, or by sending to your device via Email Attachment. Multiple files can be zipped together for batch import.
Intelligent Moving Map Display
- As you travel, PathAway will center the map on your position. and download the map sections needed to guide your way.
- Option to automatically rotate the map in the direction of travel. This keeps the direction you are traveling towards the top of the display. Rotation is done in 90 degree increments.
Coordinate Grids:
Display positions in coordinates such as Latitude/Longitude, UTM, OSGB, Quebec-MTM, MGA, MGRS, GGRS87, Swedish Grid, Irish grid, or Israel Grid and more.
Personal Points of Interest/Waypoints
Capture an unlimited number of georeferenced points, and record detailed names and descriptions. Attach your own custom icon, for easy visual scanning.
Record and Follow your Tracks
Record your track as you travel. Then, follow the recorded track to find your way home. PathAway can store an unlimited number of track logs which can be selected at any time for navigation or analysis.
Point to Point Routing
Create routes quickly by simply clicking points on a map, or by choosing from your point database.
Navigation Warnings and Alarms
Proximity detection alerts you to upcoming points along your route, or when you get close to one of your points. If you're following a route, PathAway will alert you if you've strayed off-track, or if your elevation has strayed beyond the level stored in the route.
Compass View
Customizable Large Compass view screens showing Heading, Direction to Next Point, or any other available navigation data. View multiple Compasses on the screen at the same time, or a single large compass.
GPS fix acquired and lost alarms
Receive audible alerts when a GPS fix is acquired or lost.
Onscreen Trip Statistics on a Customizable Dashboard
Display the information you need while still having a great view of the map. Custom 12 edges of the screen to pop-out to show the info. Stats such as ground speed, average and max speed, and vertical climb/descent speed. elevation, geographic coordinates, directional heading/ ground distance/vertical distance/vertical angle to next point, or destination. Odometer, elapsed time, Estimated time en route.
More Details, screenshots and user manual at http://pathaway.com/PWAndroid.htm