Global Positioning System (GPS)
PathAway navigation system uses satellite signals to determine your exact location, speed and direction of travel. PathAway will work with most handheld GPS units, Palm Add-on GPS devices, Compact Flash GPS, and Bluetooth GPS.
Supports any NMEA0183 v2.0 or higher compatible GPS device (this encompases the majority of GPS devices on the market). Delorme Earthmate™, and Tripmate™ proprietary protocols are also supported.

GPS is not required to use the software. Pathaway's powerful hi-res mapping engine allows you to capture and view all your maps.
Navigation
- GPS support for most devices.
- Customizable screens can display current location, elevation, speed, direction, plus navigational information such as distance,time, and direction to destination. Over 30 different display options available.
- Moving map centers on your current location. While travelling, you can set the map to be always North up, or have the map rotate so your direction of travel is always facing up.
- Record your track for later back-tracking, or reviewing the journey.
- Proximity notification displays points you are approaching, their distance away, and position relative to your direction of travel.
- Big Compass screen can show your most important information at a glance. Customize the Compass to suit your needs.

Maps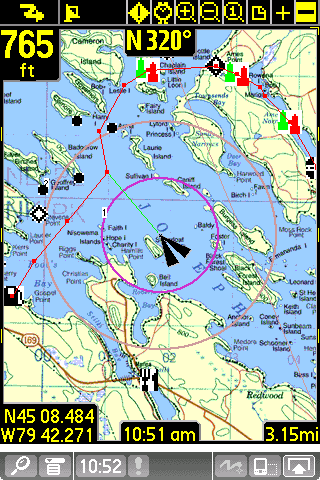 - Prepare your own maps for use in PathAway, using the free Map Manager application. Scan your paper maps or get digital maps from CD ROM software, or web sites.
- Multi-resolution color support. (Grayscale, 256 color, and new high definition color).
- Zoom in-out between maps of different resolution.
- Scroll by dragging map with the stylus.
- Map calibration. Once maps have been transferred to the device, you can fine-tune the map coordinates by matching the positions of known points on the maps, with the actual position displayed by the map.

Points
- Capture and mark unlimited number of points and locations.
- Use long names and descriptions for easy recognition.
- Apply an icon to each point. Even create your own icons using PathAway Tools for Windows.
- Goto points on the map, or points along a track.

Routes
- Create routes by simply clicking points on a map, or by adding points from your Points database.
- Choose a recorded track to follow.
- Follow routes either forward or reverse (back-track). Great for finding your way home.
- Simulate (play) your route travel before you go.
- Determine your total distance and estimated travel time to destination. Time can be estimated by current speed, average speed, or a custom speed setting.
Tracks
- PathAway can record your location at regular intervals as you travel with a GPS.
- The track line is displayed on the map as you travel.
- You can then reuse the track to follow at a later time.
- Time and distance are recorded in the track log, useful for accurate travel planning.
- All track points can be added to your points database.
Screen Views
- Full Screen Map View
- Route View
- Tracking View
- Proximity View
- Points View
- Compass View
- GPS Sky View
- GPS Data View
User Interface
- Preferences for distance and elevation units, course display, time estimation, proximity notification, map display detail, and track recording precision.
- Use of device "hard" keys for easily adding points, scrolling maps, changing views, connecting/disconnecting to GPS. Hard keys are customizable for easy access to your favourite functions.

In-Hand Data Management
- Edit point, route, and track databases including: changing order, renaming, joining, duplicating, and copying records between databases.
- Beam databases to others.
Windows PC-based Management
PathAway Tools - Map Manager

- For preparing maps to use on the device. You just need to specify the longitude and latitude coordinates of each map.


PathAway Tools - Icon Manager

- For adding icons for points and vehicles to be used on the device. Create your own using a bitmap editor, and add them to your icons database.

PathAway Tools - Database Import/Export

- Import/export Points, routes, and track databases. transfer between standard comma-delimited files. (currently available in command prompt and Windows DLL only)
---