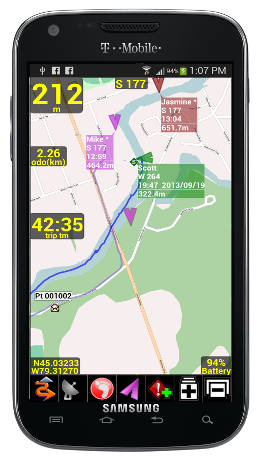 PathAway development is ongoing. This year is an ambitious one as we intend to innovate with great new features to enhance your experience with the application. Of course smaller issues and bugs have been addressed and fixed along the way as well. Here's some significant improvements.
KitKat Ready
If you're upgrding to Android 4.4 KitKat, then PathAway is ready to go. We've tested on the Emulators for 4.4 as well as external Beta Testers. If you experience any issues on KitKat, please let us know and we'll address it right away.
Database Management Improvements
A lot of work has been done in the data management for Points, Routes, and Tracks. And even more to come. Its out goal to make PathAway the easiest App available for dealing with large amounts of this kind of data. Here's some of the highlights:
- Added a Tracks/Routes "Repair" option to fix database if corrupted. Occasionally we've seen data getting corrupted due to a system crash. There now is an option in PathAway to attempt to "Repair" the data. If you see garbled track or route lines, then try this command first.
Exit Confirmation
We've received a lot of feedback on how the App exits or goes into background mode. You've told us you want more control over this, and to prevent inadvertant extra "Back" key presses. So we've added an Exit Confirmation screen, that you can choose to leave the application or Cancel. If you have background tracking turned on and the GPS is currently actively tracking, then an option "Track in Background" is added.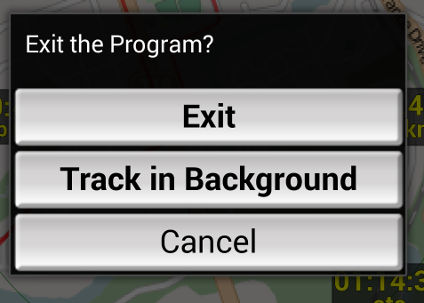 Exit Confirmation is optional and can be turned on in the Settings->General dialog.
Note, when you press the Back key, in Android the app is not terminated immediately. It will be removed from memory when Android needs the memory for other apps (or when it feels like it), so the App is not "Shutdown" when it exits. It is consider bad practice to "Force the app to terminate completely". This could be done if our users demand it, but essentially it is considered "Crashing" the app. Let us know what you think.
Map Scale Dash Item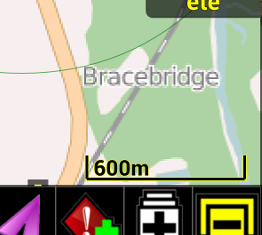 You may have noticed a new Map Scale display on the bottom right of a Map View screen. This is a new dash item showing the current viewing Map Scale. Thanks to you and your feedback for this. Of course you can change what's displayed here is well by editting the dash item using "Long Press" to bring up the Dash Item Dialog
Webmaps Magnification
If you're older (like me), then reading a map on a small screen can be difficult if not impossible. With the new HD screens, the pixel density is now much tighter and the text on these maps will be even smaller. So we've added a Webmaps "smart" magnification that detects high density screens and magnifys the map for easier readability. Try it out and let us know what you think. The maps may not appear as sharp due to the scaling, but the text will be more readable. Depending on the feedback, we may add an option in settings to allow you to control the amount of magnification on the map.
New Startup Screens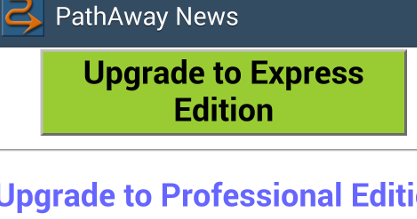 By now, you probably have seen the new Startup and News screens added in the latest releases. These screens have been added in order to provide better service by letting you know what's new, what's coming, and what's available to enhance your experience with PathAway. If you've purchased the App you can simply turn off these screens to ensure they don't pop up again. Note this is reset whenever you update to a newer version so you can see the latest news.
Google Play version now has PathAway Upgrades as In-App Purchases

If you've downloaded the App on Google Play, you can now upgrade without having to download another App. From the "What's New" screen, simply choose the "Upgrade" button for the Edition you want to purchase. Once your purchase is completed, the App will instantly display the new features of the upgrade. The purchase options are also available from the Settings dialog.