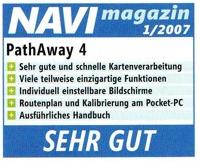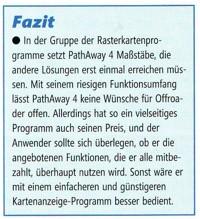 PocketNow Review of PathAway Professional Edition
by Mike Benten, Contributing Editor
PathAway Standard and Professional have tons of features and excellent operation. The developers really listen to their customers in the forums and the update cycle is short (sometimes a week between updates with new features). Aside from customization, PathAway comes with some very handy features that work together very well.
Overall I am impressed with the Remote Location Tracking and web maps, they worked flawlessly. The functionality of PathAway Pro is very impressive and valuable to a traveler or work force. The responsiveness of the developers to their clients, and the turning out of updates is wonderful...
If you are going to place bets on GPS software, put the money down on PathAway Pro because MuskokaTech has hit a home run with PathAway Professional.
PathAway GPS 3 Review
by Russ Smith, PocketNow Contributing Editor
I'll have to confess that this is one of those applications I didn't know how much I could use until I tried it out. When I did, I found a number of potential applications. The program is flexible enough that the only limit to making it work with location-based applications is your imagination. The question is not really "What can it do?", but "When it comes to GPS, what can't it do?" As you begin to see the wealth of applications, the $50 price tag looks all the more reasonable. In fact, as I'm writing this, I'm surprised the program is as inexpensive as it is for all the features it offers.
If you're looking for a GPS application to help you while you travel by virtually any mode of transportation; if you're looking for a GPS application that can take you virtually anywhere; if you're looking for a GPS program that isn't limited by the maps that come on the product CD; this is it. Look no further.
Review from PocketNavigation.de (German)
German:
PathAway hat alle Voraussetzungen, die Klasse der Rasterkarten-Programme zu dominieren! Das Programm besitzt schon auf der PocketPC-Seite einen riesigen Funktionsumfang. Track-, Routen- und Waypointverwaltung lassen wirklich keine Wünsche offen. Die reine Movingmap-Funktion bekommt allerdings auch der Anfänger schnell hin. Aber so richtig kommt Pathaway erst im Zusammenspiel mit TTQV auf dem PC zur Geltung.
Es gibt kaum ein digitales Kartenformat, DAs TTQV nicht einlesen kann, und alle eingelesenen Karten können erfreulicherweise MIT Übernahme der Kalibrierungsdaten in DAs Pathaway-Format übertragen werden.
Kalibrieren ade - nur bei eingescannten Papierkarten ist DAs natürlich auch bei PathAway/TTQV weiterhin erforderlich. Preis: ca. 49€
English Translation:
PathAway has all conditions to dominate the class of the raster map programs! The program possesses an enormous function range on the pocket PC side. Track, Route and Waypoint features really leave no desires open. The pure Moving Map function also gets the beginner working fast. But PathAway becomes even more effective in interaction with Tourtatech-QV on the PC. There is hardly a digital format which TTQV cannot read in, and all maps and calibration data can be transferred directly into the PathAway format. Calibration aide for scanned paper maps is also a natural fit with Pathaway/TTQV.
PathAway 3 GPS Navigation & Mapping Software (PalmOS)
Great import and mapping abilities. Loaded with features. Superb online help and documentation. Supports Palm OS 5 and higher resolution displays. Works with Bluetooth devices such as EMTAC. Affordably priced and great upgrade price point when a new version is released. Recommended. http://www.kickstartnews.com/reviews/pda/pathaway_3_gps_navmap.html




GPSComefare.com

PathAway 3: GPs+cartografia ad alto livello sul PalmOS
Italian review on GPSComefare.com. http://www.gpscomefare.com/software/recensioni/pathaway3_palm.htm
Customer Feedback





RRobert T, Canada,
Robert T (Canada)
None of the other GPS apps I've looked at are as good as Pathaway. This spring we hiked for 6 days in the south of France and last fall for 5 days in Sweden, both times using Pathaway and maps I scanned and calibrated myself.







Tom Payer, Fairbanks Alaska,
Have used for a year now Description: You can create your own maps, even aerial photos, and import them. I have downloaded topos, marine charts, aerials, street maps and sectionals. The cool thing is that you can layer maps and switch between them. I have used this for flight, boating and hiking.





Ding C H, Ontario
Thank-you for the fast response in attending to whatever problem in PathAway 4 to make it the greatest mapping software which is unmatchable in the market. I don't think anybody dare to come out with another software to match the functions in PathAway.





Scott Morrow, Ontario, Canada,
I have been using PathAway as my primary GPs mapping software for well over a year. I use it for boat trips, hiking, vacation travel, and most frequently, for geocaching.
I have spent considerable time trying and evaluating virtually every GPs mapping package available for my Palm PDA as well as trying out many stand-alone hand-held GPSRs and to date, I have not found any other system as feature-rich and specifically suited to my purposes as PathAway on my Palm TX with a bluetooth GPs receiver. The ability to use virtually any map of my choosing has allowed me to load extremely detailed topographical images of the areas in which I go hiking, canoeing and geocaching, and I have actually had the good fortune to visit places and see things I would have missed completely if not for my use of PathAway.
Technical support from MuskokaTech for this product has been second to none with new features and problem solutions being made available on a regular basis via the support website. The personal service resulting from the ability to speak one-on-one with the company founder is virtually unheard of in this day and age, and is one of the most personally endearing and important aspects of PathAway and MuskokaTech. As a software developer myself, having the ability to communicate technical issues directly with the person who is the most knowledgeable about the product is unquestionably one of it's strongest assets and helps to ensure my loyalty and continued support for PathAway. Keep up the good work!
Ian P, Australia, Oct 2006
PathAway v4xx on an iPAQ HW Pocket PC machine has proved extremely versatile.
The in-built GPs receiver of the iPAQ is seamlessly utilized by PathAway. The 240x240 square screen (bane of many programmers) is similarly utilized, with a very good screen resolution.
Considering the price of the program, backup/upgrading and response to customer concerns are very good. From my perspective, the main value of PathAway lies in its ability to utilize calibrated pixel maps. Although the quality of the original pixel map has to be chosen carefully, zoomed resolution is excellent to perhaps 10m or less "on the ground".
My main use for PathAway has been in geological mapping. Excellent topographical pixel maps of Australia are cheaply available from a Govt agency and once calibrated (very easily done), using PathAway to locate the features being mapped is a simple, seamless task. Most efficient and cost-effective.





Perry Curling-Hope on PocketGear
This is a raster (bitmap) based mapping system which cleverly overcomes some of the inherent limitations in such systems when compared with 'professional' vector based mapping. Vector maps occupy less memory and are scalable virtually without limit, but require expensive, specialized software and considerable technical skill to produce and manipulate successfully.
Pathaway overcomes the zoom limitation by allowing automatic switching between a large map of low resolution to a smaller map of higher resolution lying within the coordinates of the larger map This can occur automatically when the GPs position enters the parameters of the smaller map, or can be switched manually.
The system is feature rich, all of which work very well.
Icon and tracking are vector based, extending the capabilities of this small system to an astonishing degree!
The GPs to PC screen fix is exceptionally accurate, the best I have encountered so far.
All in all, an outstanding application for the Pocket PC.




by Darrin Hatch on PocketGear
This software is great! I love how compatible it is with my Audiovox VX6700! I use it for everything: Hiking, Camping, Traveling, etc. Highly recommended!




by David Ulan on PalmGear
I'm using Pathaway on my Garmin iQue 3600 for work in the oil field as well as 4x4 trips. I've been using the map sets that came with my SoftMap Technologies mapping programs, Canada Topo250 and Alberta Topo50. Using these programs it is very easy to load maps into my iQue and use them with Pathway.





by Marco on PalmGear
This is a simple to use, but unequaled powerful software. I used it so far on Tungsten E running on PalmOS 5. The performance at a 8bit color depth is just enjoyable.





By Nadim on PalmGear
I've had this program for over a month now, and have scanned in really detailed flying charts. A 4Mb image synchs in a blink of the eye. The sheer no. of features the program has to offer is amazing. I would recommend it to people wishing to use it for flying.





By Gregor, Germany
To the creator(s) of PathAway:
My congratulation for this excellent engineering product.
I tried the demo version and found:
a.) functions (and details) are very helpful and reasonable selected (for sportive/leisure activities)
b.) operation is intuitive.
c.) it's very stable and predictive.




By Anthony on PalmGear
PathAway is the single best program for PalmOS. I'm using it with a Tungsten T-2, Emtac Trine bluetooth GPs, and ETopo digital maps. It is fast and incredibly easy to use, and it does everything you want to do when going out on the land.
I use it for hiking, fishing and hunting. I also use it for geocaching, and for data collection to create my own maps of local trails.
The on-map navigation is by far the best of any software I've tried -- many times better than Fugawi. Zooming, tiling, and layering maps works amazingly well.
Waypoints, routes and tracks are all good. The customizable navigation views are a really great feature.
Nothing else even comes close for the Palm. Try this one first -- you won't be disappointed.





By Lauren Glenn on PalmGear
I've been looking for a GPs program that can tell me how far I rode, walked, drove, etc. as well as tell me where I currently am. Before this program, I used 2 programs and neither one did both tasks like this program did. It not only tells you how far you've traveled, but it will show you the route you took and save it for later use. It makes nice use of the Hi-Res 320x320 Zire 71 screen. If you're approaching a WayPoint, it will not only highlight it for you, it tells you how far away it is (which is great when walking or riding).
It uses raster maps (i.e. picture files), but unlike other programs, this one lets you calibrate the map on the fly with the GPs Just pick two waypoints on the map and the map is calibrated. If it's still a little off, you can use the Nudge Controls to tweak it. It's about the best raster map calibration I've been able to find. When I first heard it didn't use vector maps, I wasn't going to download it. But after using all the great features, I promptly registered it. If you're using a Tracking program, Compass program, and a mapping software that requires you to purchase maps, get rid of them and get this program. It's well worth the money.





Ivona Manitius, Quebec, Canada.
Version 3 promises to be an excellent software. Technical support is excellent. I started using version 2 few month ago and I liked what it how it was performing on palm m515. New version (3) will be even more fun to play with...
Patrick Laarhoven, Netherlands
(Summary of PathAway 3 Presentation to PalmClub.nl)
People (myself included) were really impressed with:
- the High Res+ view on the Clie NX
- the zoom function
- the wider lines of the routes
These additions surely make PathAway THE program to have for the "Moving Map" program fans.





By Tony Nilsson, Sweden (again!)
Thanks for making the world's greatest Palm application (over and over again!).






mescaler, Mexico City, Mexico.
Excellent Software. I Started using a very early version of Pathaway, with my palm m500, and purchased the license, for every problem I've always get an answer from tech support, now I'm using it with a Tungsten and it just works better and better. It's very useful especially for the places where no maps are available (Mexico City).





Dan Baker, Australia
Pathaway is 'The' GPs program for the Palm, I am running it on a Clie N760C and the display of Pathaway is truly brilliant! I would like to say that this program blows the competition away! There is more 'stuff' on here than I ever knew I could need! :)





by Mauricio Taslik (posted on PalmGear)
Version 2.0 is really excellent. Most of what I was missing in version 1.2 is now implemented: proximity alerts, extensive tracking parameter configuration (track bias), improved GPs reception feedback (although I'd like to see a sky chart and some kind of warm start for Rand McNally Streetfinder), and enhanced map handling. General arrangement of data on the Palm display is neat and functional with its configurable dashboard.





By Tony Nilsson, Sweden
The number of useful Palm/GPs software available is now: 1
I've been testing quite a few different GPs Navigation Software for the Palm, but PathAway is totally outstanding... The customer support is also beyond compare... My e-mail message was read, the problem was diagnosed and an ETA of the next version was sent to me in less than 4000 seconds.





Eric Devoe (posted on PalmGear)
Nice piece of software. This is just what I was looking for. Great companion for my GPs unit even without the maps. Runs smoothly and flawlessly on my m505. Registering it was a no brainer - well worth the price.





by Troy Conley
PathAway works excellent. I have been using the PathAway software for Geocaching and the coordinates are right on the mark everytime. I have been recommending it to everyone that I know that has a PalmPilot with a GPS attachment. Top of the line in my book. Thanks, Troy PalmTroy




by Michael Compagnino
I purchased a Street Finder from Rand Mcnally for my Palm Vx, that was the easy part... I live in Australia so the USA maps that came with my GPS were no good to me. PathAway solved this problem. I now can scan my maps or download them and away I go. For all you Aussie's looking for an inexpensive way of mapping your travel this is it!!





by Corrado Conforti (posted on PalmGear)
I downloaded it, installed on my palmIII + RandMcNally Streetfinder GPS, and... I Loved it!! My problem was to find accurate maps of strange locations, not covered by TomTom RoutePlanner or other software. Now, I can use Microsoft MapPoint or other PC mapping software to select the zone, with the desired details. Then capture the screen, import in PathAway with the mapping tools, and go!
Yes, now I really FOUND my killer application for Palm! A must have, for GPS-addicted guys. See http://www.dauphins.com/gps/gps.html.





by Marc Werner, Germany (posted on PalmGear)
This is an excellent piece of software. I tried it extensively on my Palm IIIx with RandMcNally GPS. Everything works fine. Importing scanned or digital maps using the Windows tool is easy, defining routes on the Palm just by tapping on the map with the stylus is very efficient. For my cycling tours, tracking was accurate and the 4 different screen views (which can be easily accessed by pressing a hard button) provide all information you want (e.g. position, direction, elevation, current/avg/max speed trip distance, ETA, predefined points of interest in the vicinity). Management of routes and tracks is well implemented. I contacted the developers with some suggestions for future releases (e.g. import/export of tracks). They answered the same day saying they are working on it. Considering that this is the first version of the program and that it is already superior to similar products, the rating is five stars.