User Reviews
Look at what people are saying about PathAway…
Walter - Germany - 1 Sep 2014
PathAway Android
I would like to commend your program today. On my hike over the Alps (125 km) worked PW5 Pro without error. My tracks were recorded properly and on the external SD exported (Android 4.4.3). It reliably performed on the track. The program is fast. The map view is very good for me.
PW5 Pro is for me still the best program.

Richard M - Australia - 31 Aug 2014
PathAway iOS, Windows Mobile
PathAway has to be the best moving map app I've used, and it seamlessly integrates with Fugawi Global Navigator.
So please keep up the excellent work and a fine product!

Dr. Thomas E - Germany - 27 Aug 2014
PathAway Android, iOS, Windows Mobile
Many thanks by the way for your great piece of software which was one strong reason to go for Android after a period of time with iOS and many years of Windows Mobile with PathAway.
Thanks for the feedback and yes we would love to hear from you so share your stories and pictures of your adventures!!
Photo/Story Contest
There's still time to enter the photo contest. As an added incentive, each prize will receive a $25 discount coupon to purchase any PathAway product sold on our site. The coupon has no time limit, so you can use it now or wait for any upcoming new product.
So send us your story with a picture of how and where you use PathAway. It can be as simple as a picture and a couple lines of what you use PathAway for. We're not looking for novels here!
Your stories will be showcased on our Website and social media pages. **
The winning story will receive a one year subscription to PathAway Premium Weather Forecasts. The top 3 Runner-ups will receive a one-month Premium subscription. All 4 winners receive a $25 discount coupon to be used to purchase PathAway products. *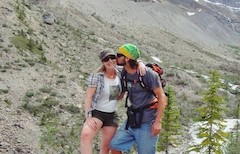 * Contest closes September 30th 2014. Submit as many stories as you like.
** Email addresses used for submissions will not be used for any other purpose. Your full real name will not be used publicly unless specifically granted by you.