Our Most Advanced Version to Date.
It's finally here! The App that does it all. PathAway Professional Edition has everything you can imagine what an outdoor GPS should have.

Now There are No Limits.
The great outdoors have no limits, so why should your App? PathAway PRO has everything from recording an unlimited number of tracks, create and import unlimited number of routes to navigate, track an unlimited number of friends, assets, or pets, create or import an unlimited number of your own maps, or use the automatically downloaded maps, capture an unlimited number of location points and annotate them with pictures and lengthy descriptions. You can even modify the User Interface screens and map overlays to suit your specific purpose. Even if you go beyond the limits of cell towers, PathAway will still retain your maps and data.

Designed for Robust Use
We've been developing GPS Apps for mobile devices for over 15 years, based on user feedback and recommendations. The creative design of PathAway PRO has grown to be the companion you can trust to get you out there, and to bring you back safely. Its time proven core engine manages all the monitoring and recording data efficiently and robustly. You can count on PathAway Pro to handle the most challenging tasks in the Outdoors.

Unparalleled Versatility
PathAway's features have been carefully designed to embrace the widest range of activities in the field. So go ahead and test out PathAway Pro for activities such as hiking, cycling, touring, aviation, boating, rally racing, athletic training and more. For Professionals use PathAway is adept in areas such as mapping/GIS, tourism, mining, military training, search and rescue, wildlife study, location surveying, site inspection, field data collection, and more.

Users have their Say
"Perfect for Off Road Navigation!", "Best GPS App yet!I", "All other programs have fallen behind now! So just super. Now, the dream tool is here!!", " The cool thing is that you can layer maps and switch between them. I have used this for flight, boating and hiking." (For additional reviews go to http://pathaway.com)

It's An Evolution
Are you ready for more? PathAway Pro's feature-set has been built on the success of the Lite and Express Editions currently on the market. Of significance, PathAway PRO enables users to send their location to others, and to monitor where others are, right on their handheld unit. Locations can be sent and received directly to other iOS or Android devices, or sent to a central tracking service. This makes PathAway ideal for activities such as group travel, search and rescue operations, competitive sports, or people and asset tracking.
Additionally, some of the new features include: Elevation/Speed Profile views, advanced route navigation with multi-directional alarms, as well as customizable turn instructions. On-Screen time and distance radials, custom alarm sounds, a customizable User Interface; pinpoint feature to improve accuracy of captured points; advanced data management, import/export of track logs, routes, and points; location measuring tools, support for X-Traverse marine and topographic online maps plus much more… .
So many reasons to upgrade or buy PRO!!!

Now also available as an In-App purchase for a discounted price
in the latest versions of LE and Express Editions.
Note, These Editions are also available on the Android Platform.
Highlights of key features and must haves for the sophisticated user:
Location Sharing and Remote Tracking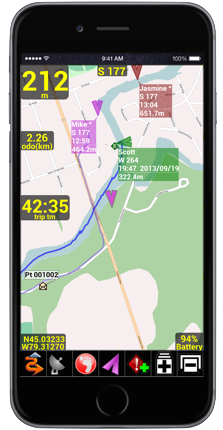 PathAway FindMe offers a simple online service where your can share your location. After posting your location to the PathAway FindMe service, go to http://pathaway.com/findme to view the last location on a Google map.
Send My Location
Send current GPS location to another user or remote tracking service. See PathAway Send/Receive Format document for the supported send formats. Send manually via command, or have location sent automatically based on time or distance travelled intervals.
Retrieve Remote Locations

Remotes are tracked by their ID passed along with the location message. Retrieval is achieved via automatic or manual polling of the PathAway Findme Central Tracking Server, or a Http-based User defined Tracking server.
On-Map Remote Labels
- For each remote location being tracked, the tag on the map can display current location and heading of remotes, course, speed, elevation of remote, date/time of retrieval, distance to, course to, and elevation difference.
---
Profile View

Elevation and Speed Profile view for tracks and routes. View and follow your route based on elevation stored in the route data. Analyze your track log speed and elevation.

---

Show Multiple Tracks/Routes on Map

In addition, you can store points in multiple Points Databases and select which Points database to display on the screen. A great way to declutter your map views.

---

Measure Area or the distance between points

Want to know the distance between 2 points on the map? With the Measure tool you can just click 2 points to get the distance and direction. You can also determine the area coverage of one of your routes, or recorded track logs.

---

Additional Advanced Features

Custom User Interface Colors and Styles

Modify color and width of the tracks, routes, and other lines displayed on the screen. Modify the dashboard colors. , and other UI elements. Choose from 3 different position markers and adjust their size and color. On all items, you can also define the level of transparency in order to not clutter the map.

Directional Alarms

In addition to the off-track and altitude warnings, turn instructions, and proximity notifications, PRO now offers different alarm sounds for left and right turns, left and right of off-track warning, and high and low elevation warnings.

Find Location by Street Address Lookup: (Internet connectivity required)

Enter a street address, then choose from the closest points found. Choose whether to show the point on the map, add a new point, or navigate to the address location.

Time and Distance Radials

Display radials around the map center location showing distances or estimated time to surrounding areas.

Customize Alarm sounds

Modify each different type of alarm sound to suit your preferences.

Map Calibrate and adjustments on the device.

Adjust your custom map calibration using nudge controls, or by adjusting the location of the known points on the map.

Add Turn Instructions to Routes

Insert turn or onroute instructions along a route to offer added route guidance. Special alarms will sound for each turn instruction approaching and reached.

Follow Routes in Sequence

This feature will force the system to target the next route point ONLY after you've reached the current point. You can even set it to manual route advance, where you must select the Advance command before the system will move on to the next point.

And there's more! Other Advanced Settings

- Adjust how time estimates are determined. Ie. Based on Active route, current speed, average speed, activity preset speed, or custom speed.

- Adjust Off-Track warning threshold, for route width, and elevation.

- Adjust closest point in-proximity radius

- Adjust Point naming prefixes

- Adjust zoom level where icons and text labels start to display.

- Primary and Secondary Coordinate display. View multiple coordinate types (Ie. lat/long and UTM) on your dashboard at the same time.